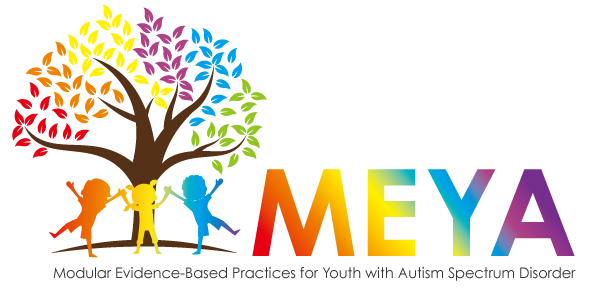 Welcome to MEYA
MEYA is a comprehensive clinical training and clinical-decision-making personal assistant for clinicians working with youth on the autism spectrum in outpatient settings, hosted at UCLA. All aspects of MEYA are evidence-based and meet American Psychological Association Division 53 standards for possible efficacy or better. A Session Selector provides guidance to clinicians in choosing appropriate session content personalized to each child or student you are working with throughout intervention. Practitioners are provided with brief training with video vignettes and concise checklists on implementing each session in the week prior to the upcoming session at a time that is convenient for you. Intervention materials such as goal charts, sample goals relevant to your client, cartoons, visual schedules, and session checklists are provided for each session.
The intervention length in MEYA is flexible from a few sessions to a few years of sessions, all based on the standard 1-hour-per-week outpatient model. Most types of clinical issues seen in youth with autism, ranging from behavioral to emotional to social and friendship-related challenges are addressed in MEYA. Practitioners are given assistance in personalizing care for each client based on their presenting clinical characteristics, and practitioners have flexibility to change focus and implement practices in the most suitable way for their clients. MEYA focuses on positive practices that promote the alliance and clinical progress for a broad range of children and youth with autism.
The evidence-based practices in MEYA have been developed by our research group and various other groups around the world over the course of many years. MEYA was developed with the support of the National Institute of Mental Health and UCLA as a tool to advance public health. MEYA is free of charge to clinicians worldwide working with youth with autism. As this website is part of clinical research it undergoing ongoing refinements and improvements. For access to the website, please contact our project coordinator at MEYA@gseis.ucla.edu.
Additionally, we are currently recruiting clinicians for a training opportunity with an expert consultant of the MEYA website and curriculum. Our inclusion criteria is clinicians based in California who see children with autism and emotional dysregulation, aged 6-14, and in a one-on-one setting. If you are interested and eligible in the study, please let us know by emailing cyan@gseis.ucla.edu.
We hope you find this helpful in supporting your work with children and youth with autism.
Jeffrey J. Wood, Ph.D., Professor of Human Development and Psychology, UCLA
Karen S. Wood, Ph.D., Chief Psychologist and Supervisor, MEYA Research Lab, UCLA